Walking Tour in Dataran Merdeka and its FREE!!!
As a Malaysian, we are always proud with our historical buildings in Dataran Merdaka, but how much do you know about the stories of the historical buildings over Merdeka Square? So here come the chance, one day when I was doing my survey on the free walking tour in Europe for my upcoming trip, I found there is a free walking tour available in Kuala Lumpur also. How should I miss it out as a Malaysian?
So let's have a free walk in Kuala Lumpur!
So I called up the hotline available and made a reservation for myself to join the FREE DATARAN MERDEKA HERITAGE GUIDED WALK on Saturday morning. Let's make the morning something meaningful!
Next to the Kuala Lumpur City Gallery, is the Music Museum, built in year 1919, this is a three-storey symmetrical building with a protruding porch and arches on the ground level expresses Moghul architecture eloquently. Im in love with this kind of European style buildings!! Do you know that Beach Street in Penang do have all these kind of beautiful architecture as well?
 Wonder where is the Kuala Lumpur City Gallery? Next to the field, is where the" I love KL" sculpture can be spotted.
This is the gathering point for the tour.
I registered myself over the counter in front of the Kuala Lumpur City Gallery, and I received a warm welcome by Kak Jasmin, our tour guide of the day. And I met a few foreigners as well!! Okay in fact in the group of 17 people, only 3 of us are Malaysian. I bet most of the local did not know the existence of such a great tour.
Free Dataran Merdeka Heritage Guided Walk is a free walking tour, which allows participants to discover 11 historical sites around Dataran Merdaka/ Merdeka Square within 2 hours and 30 minutes. This tour started since year 2012, and since then this tour has welcomed participants for 30 countries, with around 10,000 people. Throughout the journey, there will be 2 toilet stops and 1 water stop. The starting point and ending point is Kuala Lumpur City Gallery, ad it is available on every Monday, Wednesday and Saturday, from 9am to 11.45am. Kak Jasmin is a very friendly and knowledgeable tour guide, so we had an enjoyable trip together on that day!!
1st station: Kuala Lumpur City Gallery. Instead of wall exhibition, the history was recorded on the ceiling, such a creative way isnt it? So Kak Jasmin just explained to us the brief history of Kuala Lumpur development, which included some familiar names I got from my Sejarah  text book like Raja Abdullah, Sir Frank Swettenham and Kapitan Yap Ah Loy.
The largest masterpiece of the Kuala Lumpur City Model which is one of the biggest highlight in the city gallery. Measuring a mega size of 40ft x 50ft, it is a sight to not miss in the gallery. We enjoyed a 7 minutes short film about the past, present and future developments of Kuala Lumpur, which I just got updated on a few skyscrapers project in Malaysia, one of it is the Menara Warisan Merdeka, estimated to be 644 meters, to take over KLCC tower as the tallest building in Malaysia in 2024.I strongly hope that there will be a skywalk available on the top of the tower just like how Macau Tower and Queensland did!!
2nd station : The Victorian Fountain.
The fountain was sent out from Britain to commemorate Queen Victoria's diamond jubilee in 1897. However, the fountain was not assembled on site until 1904,after Queen Victoria's death. The shape of the top of the fountain bears some resemblance to KL Tower and blends in well with the city skyline.
3rd station: National Textile Museum
Built in year 1905 and formerly known as Federated Malay States Railway Station and Singapore Works Department, this building is distinguishable by its design. The alternating red bricks and white plaster give its another name, the ' blood and bandage' by the locals. It is an Islamic Style facade with raised onion-shaped domes, which is one of the so commonly seen in the mosque architecture in Malaysia. It now houses the National Textile Museum, showcasing the origins, development and techniques of local textiles and the role in Malaysia's history.
The beautiful traditional costumes from Nyonya, which they need to learn how to made their own dress and shoes  ( all hand made) before they can get married. Lucky me to be born in this modern era, well I had a very bad sewing skill. Lol. If you are a fan of Baba Nyonya, you should be familiar with their famous "manik shoes" made from different colours of beads, purely handmade. And next to the shoes is the beautiful beads collar from our Iban ethnicity in Sarawak. If you wish to know more stories on the beautiful beads shoes, don forget to visit the Peranakan Museum in Penang!!
Not to forget the printing BATIK in Malaysia. I prefer the hand-drawn batik, which they had more vivid colour and the texture of the cloth is more comfortable as it is made of silk ( I owned one baju kurung in hand-drawn batik!) How i wish to get a chance to join the hand-drawn batik workshop someday hehe. There are some difference between batik in Indonesia and Malaysia, if you wish to get more information, join the tour and Kak Jasmin will reveal it to you!
4th station: River of Life Project
Next stop, we walked by a bridge behind the museum to have a  look on the  "River of Life Project" in Kuala Lumpur. The government plans to clean up the River Klang and turn into a vibrant commercial area in 10 years time. Once upon a time, Klang River was clean and the river was an essential part of tin-mining transportation from Kuala Lumpur to Port Klang. Today, it is going through preservation and conservation works to restore its beauty.
I sincerely hope that we can give a new life to Klang River, just like how Singapore Clarke Quay did.
The beautiful Masjid Jamek Mosque from the bridge.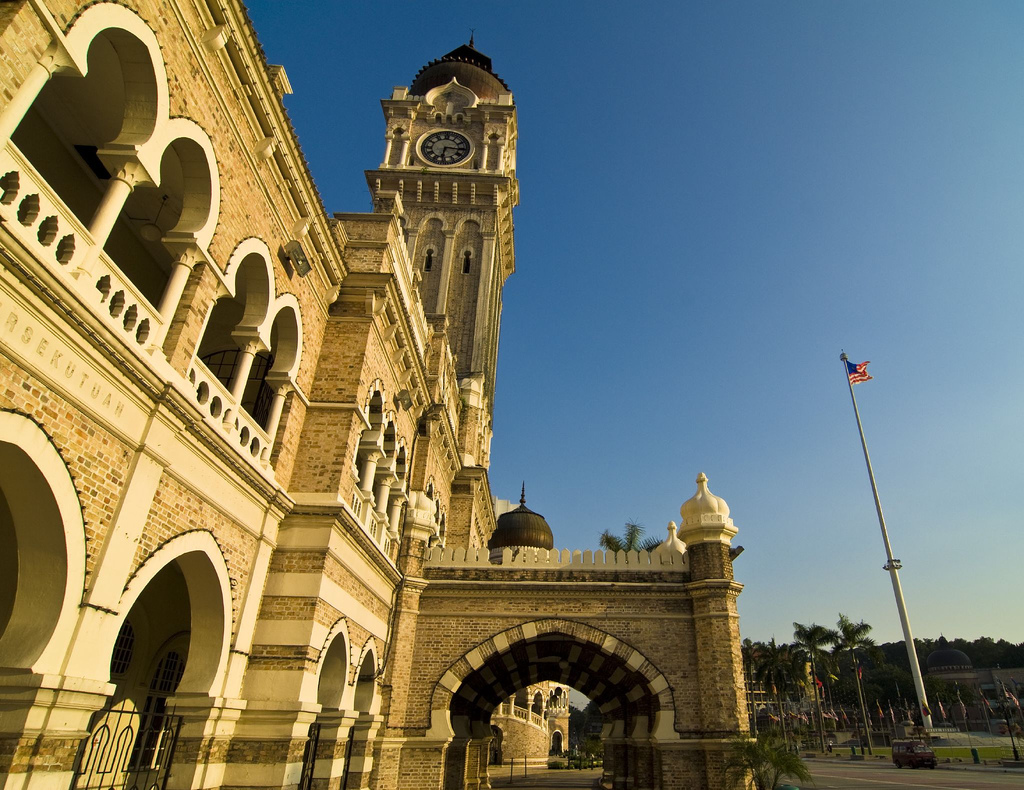 5th station: Sultan Abdul Samad Building because the name is so lengthy, we just named it as the "old grandmother"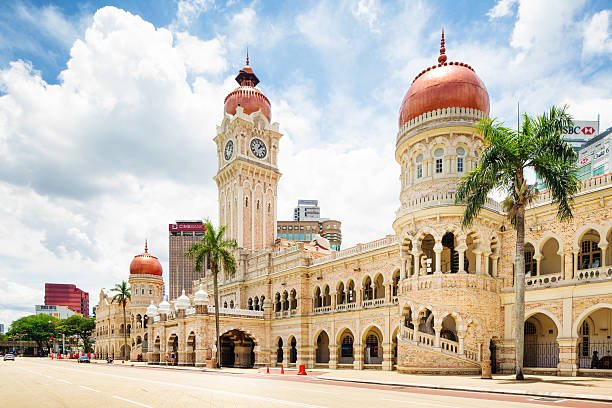 One of the most iconic building in Malaysia, the Sultan Abdul Samad Building needs no introduction. It was used to house the "Federated Malay States" administration in 1897. It was then converted to the high court and supreme court in 1972. Today, it is now occupied by the Ministry of Tourism and Culture. This elegant symmetrical brick structure features a 41 metre high clock tower, arched colonnades and copper domes.The beautiful Moghul architecture, which build by around 4 millions of bricks was inherited from the times of British occupancy.There is a lot of interesting stories about this beautiful building from Kak Jasmin, again, join this tour if you wish to know more!
This is also the place for us to have the national parade on national day!! don miss it if you plan to visit Malaysia on 31 August.
The 6th station: Former High Court Building
This two storey building has a Moorish exterior. It is unique to the architecture around it distinguishing itself from the rest. Something special on the design of the windows of the building, time to spot the difference?
The 7th station: City Theatre- Panggung Bandaraya
It was designed with a different version of Islamic arches and chhatris ( dome-shaped pavilions) on the roof line. Now it is a home to MUD theatre.  Showcasing cultural and historical musicals to celebrate the spirit of Kuala Lumpur city, twice daily at 3pm and 8.30pm. Visit to their website at www.mudkl.com for more information!
I was quite amazed with the interior design of the theatre, I never knew that there is such a classic theatre in Malaysia before. Well we can visit this place for free with the tour!! and have a short rest in this air-conditioned room after being exposed under the hot sun, listen to some scandals from Kak Jasmin.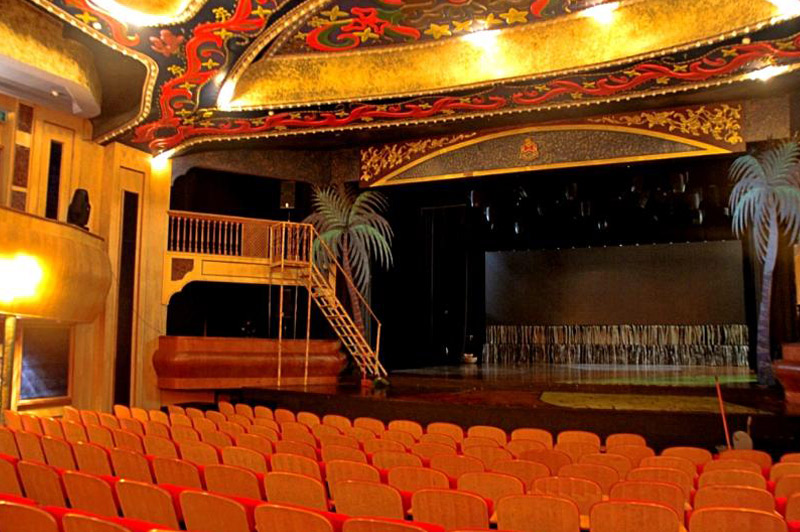 The look of the theater. I heard that the MUD show is an interactive theater with the audience, maybe I should have a try someday too.
The 8th station: The Cathedral of St. Mary
This is the first brick church in the Federated Malay State. It is also one of the oldest Anglican Churches in the region, an example of English Gothic style in 19th century. Kak Jasmin mentioned many of the ladies fainted during the mass services on Sunday in the church, what had happened?
 The interior view of the cathedral
From here, we can see that this church was quite an enclosed space. It looks so different from the cathedral that I visited in Melbourne, the St.Paul Cathedral which is also an Anglican Church. this is a simple and sweet one to me =)) just a nice place for some prayer.
There are some mysterious stories about St Mary Cathedral, what is it?? get it from Kak Jasmin  :)The pipe organ built in 1895 by Henry Willis. there is only 2 pipe organ in Malaysia, one in St Mary Cathedral, and another one in Penang. Okay as a Penang Lang ( this is how we entitled ourselves whose origin from Penang) I don know where is the hidden pipe organ in Penang!!
Our last station of the day: Royal Selangor Club
It was established in year 1884, serving as a social and cricket club for the growing expatriate community. Until today, this is still a private club. With the walking tour, we were granted a free entrance. You have to be a member to enter this space.
and dont forget the largest flag pole in Malaysia~ right in the corner of Dataran Merdeka.
Free Dataran Merdeka Heritage Guided Walk 
9am-11.45am, every Monday, Wednesday and Saturday
Starting point: Kuala Lumpur City Gallery
For registration
Contact at : 03-26980332
or email at: enquiries@kltourismbureau.com.my
How Do I Get to The Starting Point From Travel Hub KL ? 
The Starting point of the free walking tour is at the enterance of Kuala Lumpur City Gallery. Exit the glass door and turn right. Follow the street until you seen Mandarin Pacific Hotel. Take a left and head towards the train station. Turn right and walk towards Central market through Kasturi Walk. Head straight until you come across a bridge on your left. Then turn left, cross the bridge and you will see the I heart KL Sign. The KL City Gallery is there.
 Credits to  : Celine's World  and article b
y CelineYue
*All photos and content are of from cited articles on the world wide web. Travelhub KL has no ownership of the content*