Authentic Malaysian Fishing Village for Cheap.
Ever wonder how to escape the busy city of Kuala Lumpur? Especially, when you are bored with the busy city and the bright shiny lights? As a backpacker myself, I understand that on some point of our Instagram glamour posts and our need for something different will eventually take us to some place whom are off the touristy hype and down to something a little more simpler.
Pulau Ketam, or in English Crab Island is not too far away from Kuala Lumpur. It is a quaint fishing village which could be easily accessible from Kuala Lumpur without breaking the bank.  In fact, many of the local tours, that I think of are overpricing this hidden gem of a place which hinders the interest of people like us who wants a glimpse of the outskirts. If you follow this guide, I am sure that you could save about RM 50 per person for a decent half day trip full of adventure entirely
Suggestions
The fishing village has a variety of affordable fresh seafood and some local snacks. It is advisable to rent a bicycle to get around to the otter most parts of the fishing village. You are free to roam around but do note that people's houses are private properties. The people there are friendly and it is a tight knitted community. There are no motorized vehicles there only electric bicycles. You might want to bring a hat or some sunscreen ans some extra cash if you would want to splurge on food here. Be strong willed, because it is definitely tempting to binge. Some suggestions that you might want to try are crabs, clams, prawns and also the coveted oyster omelette. There is another bonus if you are a curious dessert fan, the fried ice cream.
Steamed Crabs
Fried Ice Cream
Getting there: 
Kereta Api Malaya (KTM) – Malaysia's oldest railway.
Fare :
Adult :RM 4.40 per way
Children : RM 2.20 per way
Train travel duration and frequency
75 minutes from Kuala Lumpur Station to Pelabuhan Klang Station
Every 15 minutes (during peak hours)
Every 20-30 minutes (during off peak hours)
Directions From Travel Hub KL
Head out the door and take a right. You will reach a junction and on your left will be the Pasar Seni Station. Head up to the station and passing by the small bakery shop, there will be a bridge across the river. Cross the bridge and head left towards the KTM station.
Board the train and head towards Pelabuhan Klang. The ride might take awhile, feel free to take in the scenery along the way as you head further away from the city. Pelabuhan Klang is the last stop. Disembark and exit the station. The jetty is just right ahead. Cross the road and walk towards it.
Once you reach the jetty, head straight to the port. You can purchase the tickets when you board the ferry. Take note of this, there are 3 types of ferries to choose from.
Premium Ferry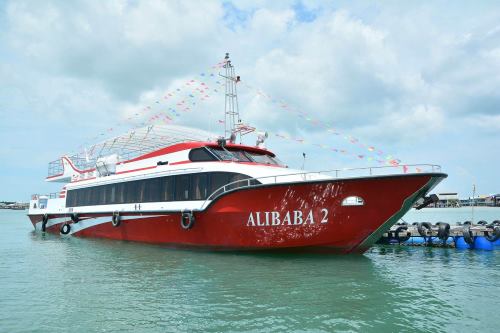 Fare :
Adult :RM 9.00 per way
Children : RM 5.00 per way
Ferry travel duration 
35 minutes
Highlights 
A new ferry with an open deck and more comfortable seats.
2. Speed boat
Fare :
Adult :RM 10.00 per way
Children : RM 5.00 per way
Ferry travel duration 
20 minutes
Highlights 
A quicker way to get to the island. For the adventurous passenger, as it is faster and closer to the water.
3. Standard Ferry
Fare :
Adult :RM 8.00 per way
Children : RM 5.00 per way
Ferry travel duration 
35 minutes
Highlights 
The conventional way of getting to and from the island. Share the experience of the local villagers lugging in supplies to the island. Great for people watching.
On the island, you can rent a bicycle to get around the island.  The price for a bike is priced at RM 5 per day. Below is a map of the island that shows the point of interests of the island.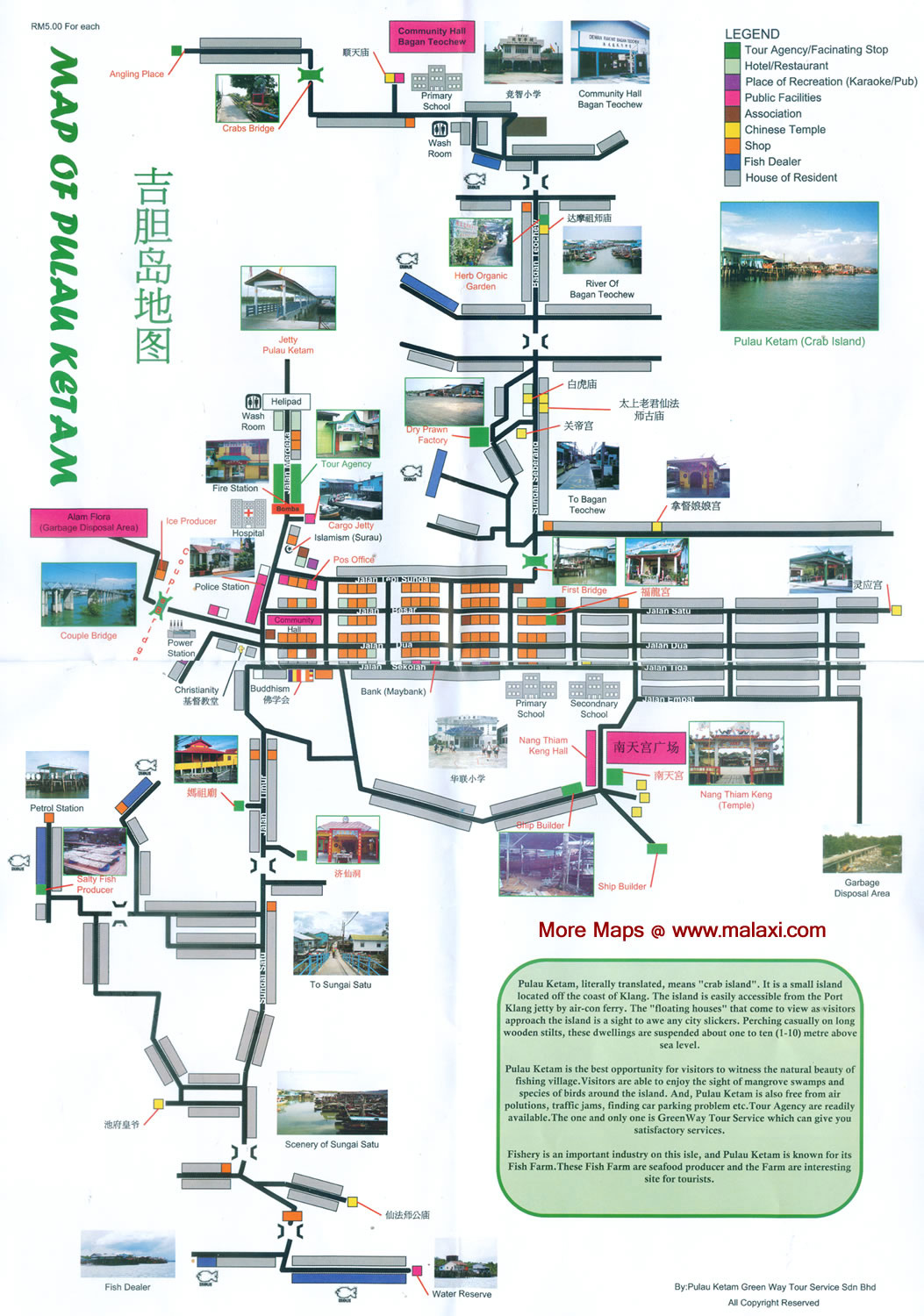 Link : http://readabouttravel.blogspot.my/2015/10/day-2-port-klang-pulau-ketam-cycling.html